Actividades
Escuela SUR: visita a la exposición and yet the air was still stirring (Young Curators Residence Programme – FSRRM)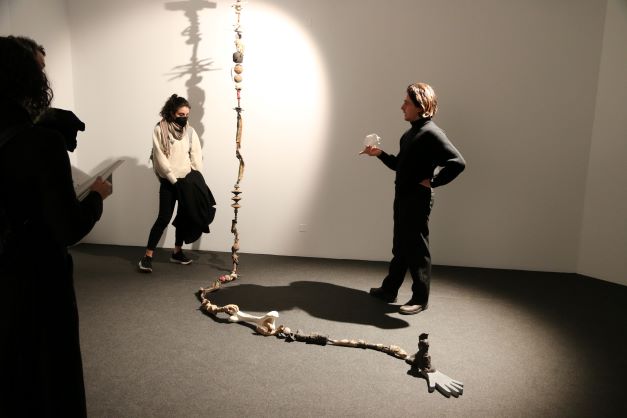 Lugar
: Sala Minerva - CBA
Las alumnas y alumnos del máster visitaron ayer, 15 de diciembre, la exposición and yet the air was still stirring, resultado de la 2ª edición del Young Curators Residence Programme (YCRP) de la Fundación Sandretto Re Rebaudengo Madrid, que puede verse en la Sala Minerva del Círculo de Bellas Artes.
Bajo la coordinación del comisario Alejandro Alonso Díaz, los tres comisarios seleccionados entre las principales academias de comisariado del mundo, Anouchka Rajendran (India), Akis Kokkinos (Grecia) y Yonma Osman (USA), han seleccionado siete artistas radicados en España tras un período de inmersión e investigación de la escena artística española: Adrián Alemán, Cristina Mejías, Dennis Dizon, Florencia Rojas, iki yos piña narváez funes, Jokkoo Collective y Raisa Maudit. La exposición explora la erupción volcánica como un proceso de curación de las economías coloniales y extractivistas de raza, género y naturaleza.
El coordinador del proyecto, Alejandro Alonso, y una de las comisarias, Yomna Osman, fueron los guías de excepción en la visita de la Escuela SUR a la exposición.